---
---
Reach your roof rack with ease!
A Strong & Durable aluminum Car Door Step Hook that can hold up to 510 pounds! You can easily set it up in any car, truck, SUV etc. and utilize its many purposes.
With this car doorstep hook, you can put all your bulky items on your car rooftop or rack with ease! Folds flat for easy storage, and doubles as a safety hammer to break a window in case of emergency!
Includes a matching case for easy storage
---
FEATURES
Quickly hooks onto the door latch on your car
Provides a non-slip step so you can safely reach the roof of your car
Built from strong aluminum alloy
Foldable and easy to store
Doubles as a safety hammer to use in case of emergency
Compatible with cars, SUVs, RVs, Off-road vehicles
Max load:510 pounds
Includes a matching case for easy storage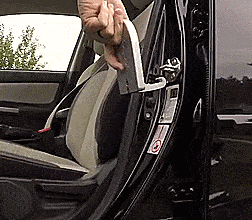 Please allow 10-24 business days for the item to arrive. Please note: due to the ongoing global COVID-19 pandemic, some minor delays in product delivery are possible, we are doing our absolute best to make sure you get your products as soon as possible.
---