---
---

This stylish electric wine opener is rechargeable, easy to use, only takes about 6 seconds to open a wine bottle, and has an incredibly fascinating elegant design. It's small and portable, easy to store and carry! Elevate your style with this amazing wine opener!
---


OPENS-UP IN SECONDS
Electric Wine Bottle Opener removes the cork in 6 seconds without pain. Just put the wine opener on the bottle and press the below button. The screw will enter the cork. When the electrical opener stops, the cork is out. The simple push-button operation makes opening a bottle extremely easy.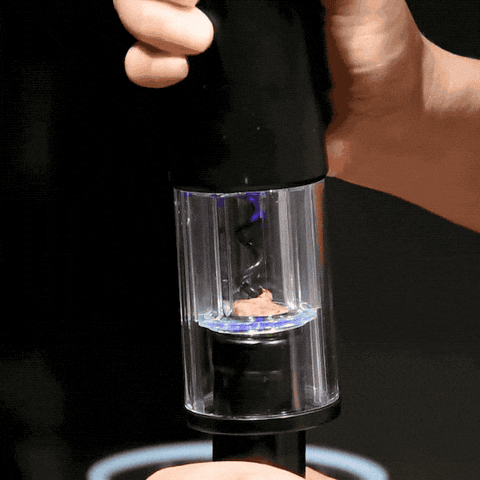 LONG BATTERY LIFE
A battery can support opening up to 70 bottles of red wine, with a transparent window to witness the whole process of the bottle opening.


CONVENIENT STORAGE &  USE AT HOME
With a compact, cordless and lightweight design, the electric wine bottle opener can be easily stored when not in use. It can also be put in the wine cabinet as a work of art and make an impression on your guests.


SLEEK & CLEAN DESIGN
A Modern blue led display light is illuminated when the wine opener is being charged or in use. Elegant design, brushed stainless steel housing with a transparent shell make it unique.


PORTABLE AND EASY TO CARRY
You can easily take this with you on a picnic, to a friend's party, or anywhere you need. Is a great companion for every special occasion.


ELEGANT AND STYLISH
The bottle opener is made of stainless steel and food-grade ABS. The spray appearance makes the grip more comfortable. The sleek design allows it to be placed in a home or bar as a decoration.


RECHARGEABLE: This amazing wine opener comes available in two different options, Standard variant powered by 4*AA alkaline batteries or the rechargeable variant with a rechargeable battery and accessories (as you can see in the photo below )


Specification
Materials: High-quality stainless steel and Food Grade ABS
Colors: Black, Red
Product Size: 28CM × 8CM × 8CM/11.0 IN x 3.1 IN x 3.1 IN
Standard Variant Battery Operated :  (battery  not included )



Rechargeable Variant with a rechargeable battery and accessories:

Please allow 10-24 business days for the item to arrive. Please note: due to the ongoing global COVID-19 pandemic, some minor delays in product delivery are possible, we are doing our absolute best to make sure you get your products as soon as possible.
---