---
---

A must-have fire emergency tool that you won't regret buying!

Accidents can come from anywhere. Fires can start at any time, so it's crucial to always stay prepared. The Emergency Fire Blanket is a flame-retardant tool you can easily grab in case of a fire. It quickly quenches down fire, allowing you to move quickly and get help and preventing or minimizing serious injury.
Why risk a fire? set an Emergency Fire Blanket for next to your kitchen, grills, fireplace, car, camping site, gas station, restaurant, warehouse, and so on.
---
THE FIRST CHOICE IN FIRE SAFETY


You can place your Emergency Fire Blanket around areas where fires are likely to start. This makes it perfect for kitchens, grills, fireplaces, cars, camping sites, gas stations, restaurants, warehouses, and so on. And because it is light and compact, you can easily grab it at a moment's notice.

FIBERGLASS PROTECTION
It is woven out of fiberglass and will protect you from serious burns. It allows you to move around in a fire, ideal for when flames are blocking your exit or if you are trying to help others get out. Likewise, you can also use it to smother down flames that have just started, or wrap it around a person whose clothes are on fire.

Features:
Quickly quenches down fire 
 Protects you from serious burns 
 Light and compact

 Extinguishes both liquid and grease fires

 Isolates high temperatures up to 1076℉ or 580℃

 Ideal for the kitchen, fireplace, grill, car, camping
Specifications:

Package includes: 1 Fire Emergency-Blanket
Material: Fiberglass cloth
Size: 40" x 40" / 1 m x1 m
Color: white
Highly Recommended by Department of Fire and Emergency Services!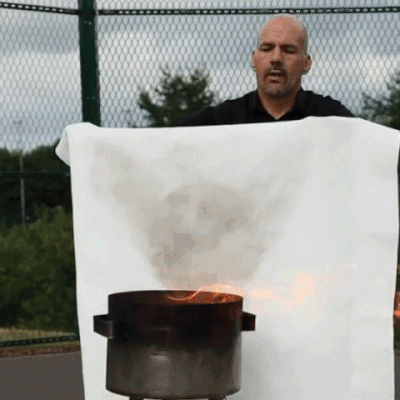 Please allow 10-24 business days for the item to arrive. Please note: due to the ongoing global COVID-19 pandemic, some minor delays in product delivery are possible, we are doing our absolute best to make sure you get your products as soon as possible.
---