---
---
Never Get Stuck With a Dead Battery Again! 
We live in an amazing time where technology makes our lives easier, better. but it's all for nothing if our batteries are always dead. Introducing ChargeGo™, your new best friend!
ChargeGo™ is the very first compact wireless charger made especially for AppleWatch users! With its compact size, you can snap it on your keychain ring and always have it by your side
---
Features:
Incredibly easy to use -  simply place your watch on your charger and that's it, ChargeGo™ will automatically start charging your battery

Waterproof - this charger is completely waterproof so you don't have to worry about being caught out in the rain. it'll get the job done no matter the time or place!

LED Indicators - this luxury charger has a LED indicator display that will show exactly when the charging is complete.

Light & Compact - there's absolutely no reason not to have a backup battery for your device when it is so small, lightweight and can easily fit in your car keys!
Maximum protection - This wireless charger uses a sophisticated system to stop the charging automatically when your apple-watch is fully charged to prevent it from reaching high temperatures that can cause a short circuit and ruin it.
Great for traveling or regular daily use you can easily charge your Apple Watch anywhere, anytime. 
If you have an Apple Watch then this tiny wireless charger is an absolute no brainer. it's light, it's small and it'll keep your favorite device charged up all day long!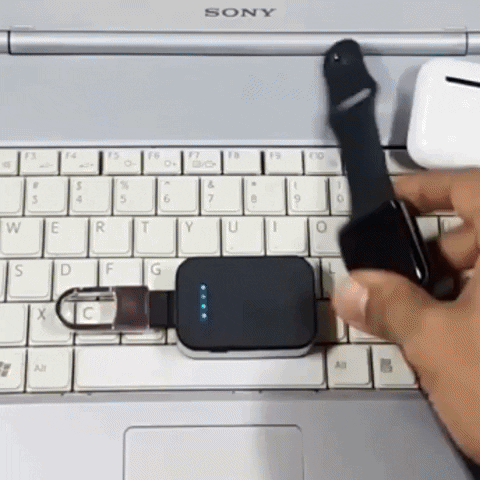 Specifications:

Compatible with : Apple-watch iWatch 1,2,3,4 series 
Battery capacity: 950mah
Input: 

 

5V/2A

Charging time: Takes 1.5-2 hours to reach full battery

Size:

75x40x15mm / 1.57"x2.09"x0.79"



Package includes:
1x wireless charger

1x charging cable
Please allow 10-24 business days for the item to arrive. Please note: due to the ongoing global COVID-19 pandemic, some minor delays in product delivery are possible, we are doing our absolute best to make sure you get your products as soon as possible.
---